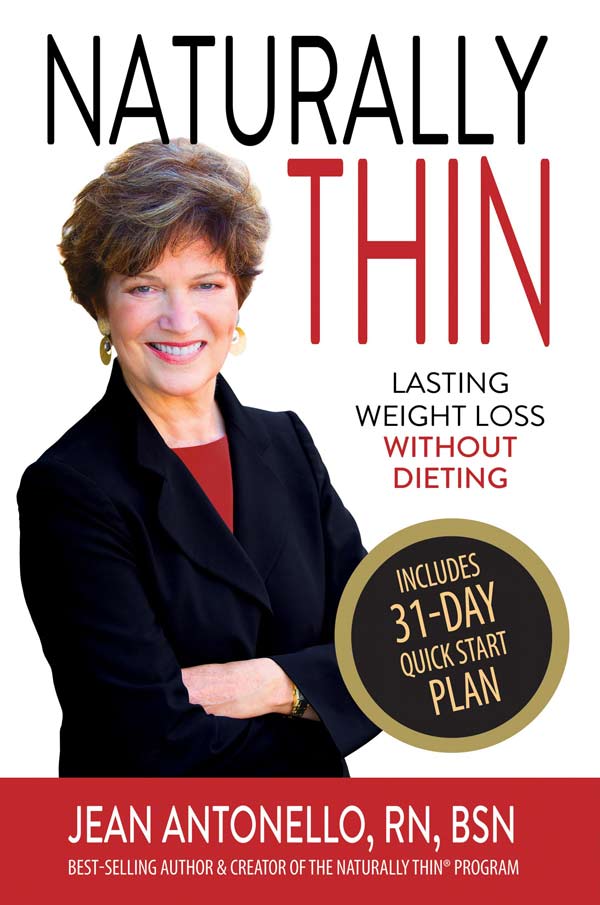 Buy on Amazon
Buy on Amazon: $16.93 Paperback, $2.99 Kindle
The long-awaited sequel to the bestseller "HOW TO BECOME NATURALLY THIN BY EATING MORE," a groundbreaking book that sold over a quarter million copies throughout the world.
NATURALLY THIN is Jean Antonello's newest book, and it shares the original principles of her Naturally Thin® program along with the latest information about how to achieve permanent weight loss based upon the biological principles of adaptation. Individuals from all over the world have been successfully applying the Naturally Thin® program for the past 30 years. They have recovered from weight problems, disturbed eating patterns, and eating disorders.
Diets don't work. Statistically, 95% of dieters gain all the weight they lose within two to five years. In fact, dieting set you up to gain weight. Jean Antonello developed her Naturally Thin® approach to weight management to help individuals find lasting deliverance from food, weight, and eating obsessions.
A Body-Centered Approach to Weight Management–Naturally Thin® program helps people free themselves from their struggles with food and achieve permanent weight loss without dieting.
This Is Not a Diet!– Naturally Thin® recovery is not a diet but a program that teaches individuals how to eat consistently in order to normalize their eating patterns. This leads to gradual, permanent weight loss. Naturally Thin® refers to the recovery and maintenance of a lean body weight without traditional food-restricted dieting. Naturally Thin® recommends a diet of quality real foods for weight loss and natural weight maintenance.
Heartland Book Company; First Edition (July 11, 2017)
Format: Paperback, 266 pages, Kindle
ISBN-10: 0998947709
ISBN-13: 978-0998947709
Price: $16.93 Paperback, $2.99 Kindle